The LarrySlam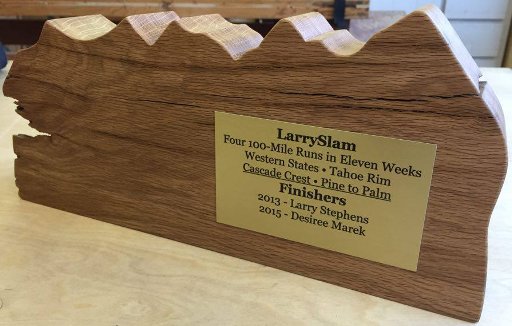 #

LarrySlammer

Western States
June 24-25, 2017

Tahoe Rim Trail
July 15-16, 2017

Cascade Crest
August 26-27, 2017

Pine to Palm
September 9-10, 2017

2017 LarrySlam - NO STARTERS/FINISHERS (?)
2016 LarrySlam - NO STARTERS/FINISHERS (?)
2015 LarrySlam
2
Desiree Marek(F), 32, OR
29:10:19
31:12:49
29:52:12
29:28:33
2014 LarrySlam - NO STARTERS/FINISHERS (?)
2013 LarrySlam
1
Larry Stephens, 57, OR
22:25:50
28:59:12
25:56:57
24:44:19
To be eligible, people must finish all four of these events: Western States 100; Tahoe Rim Trail 100; Cascade Crest 100 and Pine to Palm 100 within the same calendar year. Those who finish all four are credited with the "LarrySlam".

This series usually takes place over the space of 11 weeks (vs. 10 for the Grand Slam) and has over 165,000' of elevation change (vs. over 153,000' for the Grand Slam).

This is a series which was thought up sometime before 12/10/13 by Larry Stephens, who manages this unofficial series.
"http://www.Run100s.com/larry_slam.htm" (updated: 9/25/17) StanJ@Run100s.com