Bay Area Ultra Runners (BAUR)
The Bay Area Ultra Runners welcomes new members and invites them to attend any of the club's events as a runner, spectator, or (best of all) a volunteer:
Apr: Lake Sonoma 50m
Apr: Ruth Anderson Ultras (50k/50m/100k)
May: Mi-Wok Trail 100k
May: Ohlone Wilderness 50k
Nov: Quad Dipsea 28.4m
To join BAUR, send e-mail to:


Tim Fitzpatrick, BAUR President

Here's a photo of the founding father (Dick Collins) of the best ultrarunning club in the US: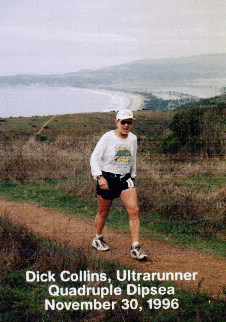 Before BAUR started, Dick Collins, as well as many of us in the SF Bay Area, were members of the Dolphin South End Runners. In the 70's, the club was led by Walt Stack (who has a book written about him). The DSE (as it was known), put on many road races in San Francisco with the exception of the Double Dipsea which started in 1970 (btw it wasn't handicapped in the early years). Walt was a real character, and encouraged people to "push the limits" of what they thought they could do. That included the Pikes Peak marathon, which started in 1956 and the Hawaii Ironman triathlon, which started in 1978.

At the time, most races were road, and were the standard distances. There were two marathons in the Bay Area including the SF marathon which started in 1977 and the Oakland marathon which started in 1980. There were very few Ultramarathon's in California at the time. There was the Jed Smith 50 mi. (run through an industrial park), the Lake Tahoe 72 mi., and Arcata to Willow Creek 50 mi. Western States didn't have more than 100 starters until 1979 and American River didn't start until 1980. The first issue of Ultrarunning magazine in May 1981 listed two ultra's in CA.

Dick ran all these ultra's, and was keen on bringing more to the SF Bay Area. He wanted Walt to put on longer races via the DSE, but Walt didn't want to get the club involved. So Dick, along with John Buenfil, Ruth Anderson, Jim Skophammer, Marty Maricle and a few others decided to start a club who's mission would be to put on races. In January 1983 the club was officially formed with Dick as the President.

His dream was to have races of different distances and difficulty, so that's why the schedule was so diverse. I think he started with a trail 50 mi. (Firetrails 50), road 100 km. (Ruth Anderson), a 24 hour (Jim Skophammer), a six day, and a trail 50 km. (Ohlone). The motivation was the production of these races, not the recruitment of members. Nonetheless, being an early club based around Ultrarunning, many people (especially from DSE) joined. Note the initial fee was $10 and there were no recurring dues. You were considered a member for life, as long as you helped at the races.

Most of the early races were pretty small. I remember getting the first Firetrails 50 results and reading Dick write that with 13 finishers it was too small to be viable. His solution was we should tell all our running friends about the race. Inevitably, the races grew, with each having their own personality and niche. The one thing they had in common was that they were put on by runners, for runners and were well-managed.

For a long time the club produced a quarterly newsletter and recruited by word-of-mouth. Many of us ran races under the auspices of BAUR, and the membership grew somewhat in the 80's. Again, there was never an emphasis on recruitment as this was before the USATF Gran Prix came into existence. (when did the Gran Prix start?).

Dick died from a heart attack in February, 1997, and Jim Skophammer assumed the role of President. Some of the races the club produced stopped (the 24 hour and six-day), but others were added (the Miwok 100 km. and (I think) the Skyline 50 km.).

The Gran Prix was established to reward participation and diversity. As such, many of the original GP races were on the schedule. Again, there weren't that many to choose from. I recall there being eight to ten races in the early years. Every year we had to "apply" to be on the schedule, and as time went on there were more and more races trying to get on the list.

When Jim Skophammer retired and moved to Sacramento, the race directors at the time assumed a leadership role. I don't think any of us had titles, but we wanted to continue to be associated and stay organized. John Medinger had assumed "ownership" of all the equipment needed to put on the races, as it was all a co-op style sharing (all the gear was in his basement). Whenever someone needed something, they went to John's and took it out. The race directors met annually and established guidelines for keeping the club financially viable. A $3 per runner fee was imposed on races which covered RRCA insurance, a locker rental (which was necessary when John moved) and some equipment replacement. And that's pretty much the way it's been since Jim passed away several years ago. Some races have come and some have gone, but the core list has remained the same.

As far as members go, we have regressed back to the core group which (I suggest) we (should) refer to as The Friends of BAUR. We need to maintain a small roster to keep the club viable, file an annual tax return, and maintain the locker and equipment. In those regards we are very successful. In terms of having people "run for the club" we are not very successful. Most of us are also affiliated with other clubs or don't really run to represent anyone.

BAUR has served 1000's of runners over the years, and Dick's spirit lives on. His dream of seeing Ultrarunning become a popular sport has been more than realized. In that regard, he could be described as (one of) the Godfather's of the sport.
"http://www.Run100s.com/BAUR/index.htm" (updated: 9/24/17) StanJ@Run100s.com